APPROACHES TO CLASSIFICATION OF REDUCTION METHODS OF LOW FREQUENCY NOISE AND VIBRATION OF POWER PLANTS
Abstract
The importance of the problem of low-frequency noise and vibration reduction now may be considered as urgent. Increased
influence of low-frequency noise and vibration may cause both human health problems and equipment damage. Power plants (internal combustion engines, compressors, heat-exchanges etc.) are one of the main low-frequency noise and vibration sources. The principles of classification of methods of power plants low-frequency noise and vibration reduction are suggested. Author is proposing energetic approach, according of which all the methods and arrangements of reduction may be classified as passive (adaptive and non-adaptive), active and hybrid passive-active. The classification is illustrated by the different examples, including constructions of mufflers and dampers, some of which are developed by author.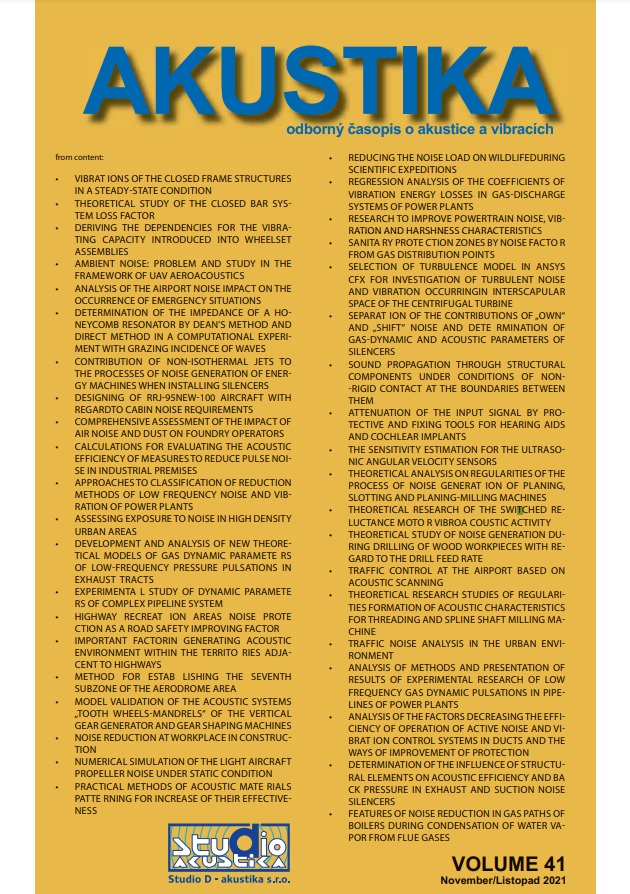 Downloads
How to Cite
Vasilyev, A. (2021). APPROACHES TO CLASSIFICATION OF REDUCTION METHODS OF LOW FREQUENCY NOISE AND VIBRATION OF POWER PLANTS . Journal Akustika, 41(41). https://doi.org/10.36336/akustika/20214152
License
Copyright (c) 2021 Andrey Vasilyev
This work is licensed under a Creative Commons Attribution-NonCommercial-NoDerivatives 4.0 International License.
Journal Akustika is peer reviewed journal indexed in Scopus database and
Web of Science.