COMPREHENSIVE ASSESSMENT OF THE IMPACT OF AIR NOISE AND DUST ON FOUNDRY OPERATORS
Abstract
The main goal of the work is a comprehensive assessment of the impact of noise and dust in the foundry. Based on the
results of the analysis, the main disadvantage areas with exceeding the permissible noise and dust level are presented – areas of knockout grates and casting cleaning areas. Recommendations are proposed for the selection of technical measures, including the rational placement of equipment, their mode of operation, the installation of acoustic screens and sound-insulating partitions near unprotected workplaces, as well as a rational selection of the equivalent sound absorption area of the workshop premises, which will create safe production conditions. Ways of improving the working conditions of operators of sand and shot blasting installations by reducing noise at their workplaces are considered: increasing sound absorption in the body of the shot blasting chamber and installing noise-protective shielding structures to fence off areas with the most intense noise.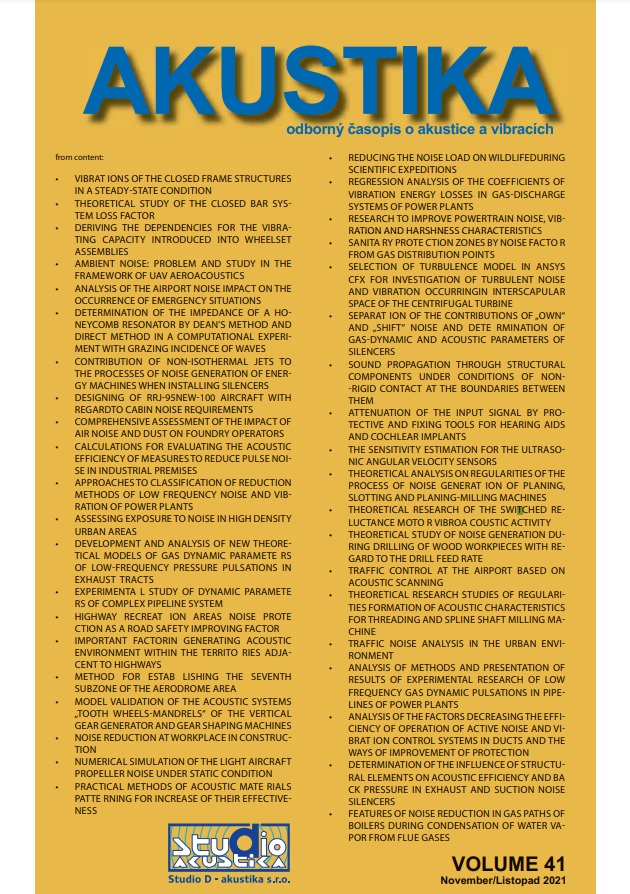 Downloads
How to Cite
Drozdova, L., Manokhin, V., Golovina, E., & Kudaev, A. (2021). COMPREHENSIVE ASSESSMENT OF THE IMPACT OF AIR NOISE AND DUST ON FOUNDRY OPERATORS. Journal Akustika, 41(41). https://doi.org/10.36336/akustika20214140
License
Copyright (c) 2021 Lyudmila Drozdova, Vyacheslav Manokhin, Elena Golovina, Alexander Kudaev
This work is licensed under a Creative Commons Attribution-NonCommercial-NoDerivatives 4.0 International License.
Journal Akustika is peer reviewed journal indexed in Scopus database and
Web of Science.