DERIVING THE DEPENDENCIES FOR THE VIBRATING CAPACITY INTRODUCED INTO WHEELSET ASSEMBLIES
Abstract
Despite the very large difference in lifting capacity, bridge cranes have an almost identical vibration control system layout, which predetermines the general approach to the theoretical assessment of vibration and noise spectra both in the production
premises and at the crane operator's workplace. The bridge crane is characterized by potential danger for not only operators but also production personnel located in the crane area within the production workshop during its operation. The safe operating conditions of cranes are determined by not only their technical condition but also the crane operator fatigue, which, in turn, is caused mainly by the impact of increased noise and vibration.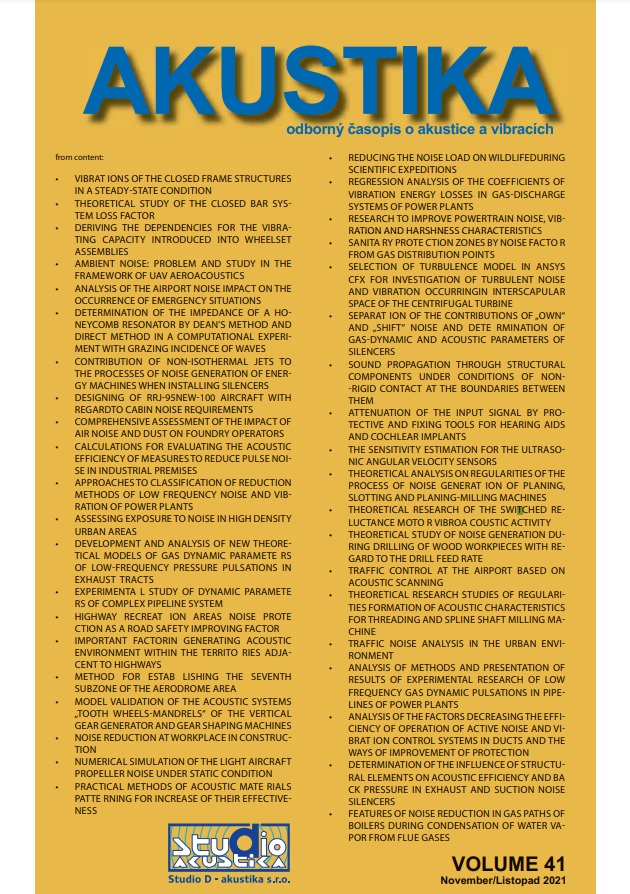 Downloads
How to Cite
Krutova, V. (2021). DERIVING THE DEPENDENCIES FOR THE VIBRATING CAPACITY INTRODUCED INTO WHEELSET ASSEMBLIES. Journal Akustika, 41(41). Retrieved from https://journalakustika.com/index.php/akustika/article/view/77
License
Copyright (c) 2021 Veronika Krutova
This work is licensed under a Creative Commons Attribution-NonCommercial-NoDerivatives 4.0 International License.
Journal Akustika is peer reviewed journal indexed in Scopus database and
Web of Science.