THEORETICAL STUDY OF THE VIBRATION EXCITATION AND NOISE GENERATION PROCESSES OF THE GRINDING WHEELS OF THREAD- AND SPLINE GRINDING MACHINES
Abstract
The competitiveness of machine-building products is largely determined by the accuracy of mechanical processing of the
manufactured parts and the state of the surface layer. The condition of the surface layer is carried out by finishing operations, such as grinding. The volume of grinding operations is from 25 to 60 % of various technological operations. Working conditions in the grinding areas are considered harmful and dangerous. [1]. The noise levels at the workplaces of these machines' operators exceed the standard values. The sound emission from the part during grinding is a particular feature of this process. A theoretical study of the noise generation processes on such machines was carried out to develop the recommendations.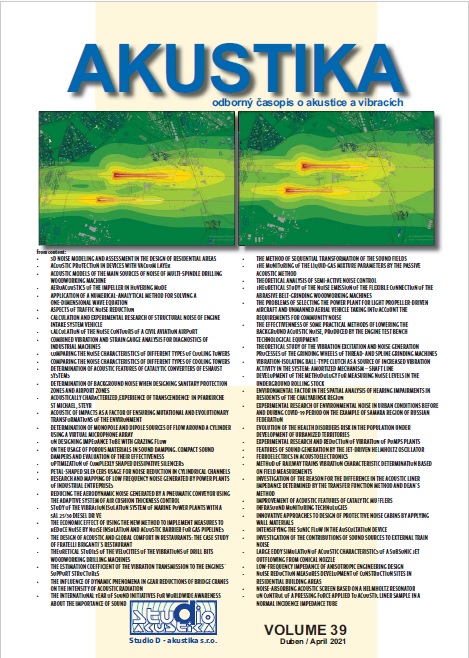 Downloads
How to Cite
Shashurin, A., Kurchenko, P., Razakov, Z., & Chukarin, A. (2021). THEORETICAL STUDY OF THE VIBRATION EXCITATION AND NOISE GENERATION PROCESSES OF THE GRINDING WHEELS OF THREAD- AND SPLINE GRINDING MACHINES. Journal Akustika, 39(39). https://doi.org/10.36336/akustika202139173
License
Copyright (c) 2021 Aleksandr Shashurin
This work is licensed under a Creative Commons Attribution-NonCommercial-NoDerivatives 4.0 International License.
Journal Akustika is peer reviewed journal indexed in Scopus database and
Web of Science.