THE DESIGN OF ACOUSTIC AND GLOBAL COMFORT IN RESTAURANTS: THE CASE STUDY OF FRATELLI BRIGANTI´S RESTAURANT
Abstract
Acoustic quality and, in wider terms, global comfort are crucial aspects for the design of built environments. There are objective
and subjective parameters, from different disciplines, which may be used for contributing to the definition of global comfort. Concerning restaurants, dining out represents an opportunity for spending quality time in good company; therefore, a multidisciplinary approach is required to the designer in order to create a unique experience for all senses. In this paper, factors involved in the assessment of the global comfort are presented. Vie en.ro.se Ingegneria has worked for the improvement of global comfort in many restaurants, such as Fratelli Briganti's Restaurant. The project was designed and defined starting from the observations collected through a Customer Satisfaction questionnaire, together with the results of acoustics and lighting measurements carried out on site. According to the outcomes, the intervention has interested different disciplines: acoustics, lighting engineering, and thermo engineering. At the end of the renovation, the Fratelli Briganti's Restaurant has been reopened and the same Customer Satisfaction questionnaire has been distributed. The outcomes show a general improvement of the comfort conditions.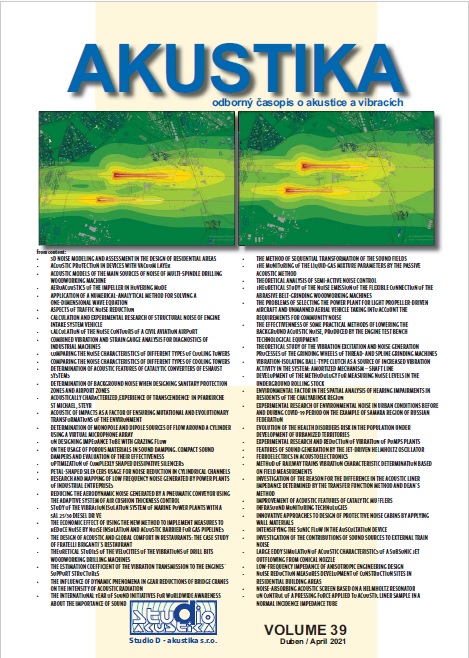 Downloads
How to Cite
Luzzi, S., Busa, L., Bartalucci, C., & Pulella, P. (2021). THE DESIGN OF ACOUSTIC AND GLOBAL COMFORT IN RESTAURANTS: THE CASE STUDY OF FRATELLI BRIGANTI´S RESTAURANT. Journal Akustika, 39(39). Retrieved from https://journalakustika.com/index.php/akustika/article/view/51
License
Copyright (c) 2021 Sergio Luzzi, Lucia Busa, Chiara Bartalucci, Paola Pulella
This work is licensed under a Creative Commons Attribution-NonCommercial-NoDerivatives 4.0 International License.
Journal Akustika is peer reviewed journal indexed in Scopus database and
Web of Science.