STUDY OF THE VIBRATION ISOLATION SYSTEM OF MARINE POWER PLANTS WITH A 5AL 25/30 DIESEL DRIVE
Abstract
The article is devoted to the study of the support and side stop vibration isolation system of two marine power plants DGA-
500 with a 5AL 25/30 drive diesel engine, in which a hypothesis is put forward about the imperfection of the shock absorption system. The purpose of the research is to substantiate the imperfection of the support and side stop vibration isolation system of marine power plants with a 5 AL 25/30 drive diesel engine. The confirmation of this hypothesis and the achievement of this goal is justified on the basis of presentation of the results of field studies on the project's courts B437/11 and the personal presence during the preparation of DGA-500 to repair at the shipyard. For the use of unbalanced engines as a drive for ship power plants, the authors, on the basis of a full-scale experimental study and analysis of known works, recommend initially assessing the possibility and purpose of depreciation of the unit according to the Katz unbalance criterion [1].
The objective of fixing the unit with diesel 5AL 25/30 on the criterion of imbalance Katz is soundproof, and the calculation of depreciation should be based on the impact of side stop vibration isolators.
A significant improvement is recommended to the support 36-40 and side stop 41-52 vibration isolation system, elastic pipe fittings 8, support frame 2 and turbocharger bracket 4 (Fig. 1).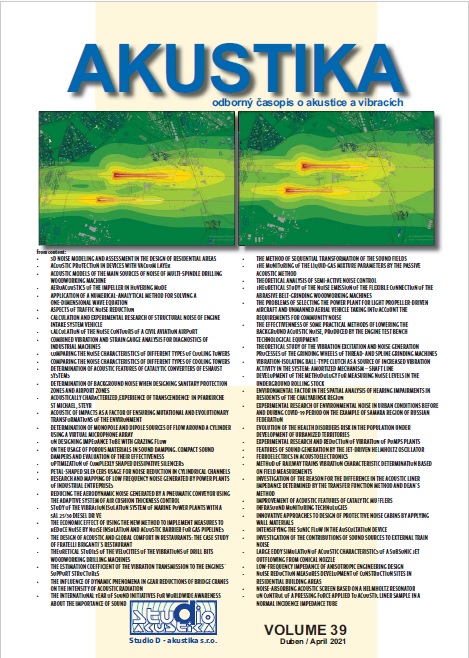 Downloads
How to Cite
Minasyan, M., Minasyan, A., & Naing, K. T. (2021). STUDY OF THE VIBRATION ISOLATION SYSTEM OF MARINE POWER PLANTS WITH A 5AL 25/30 DIESEL DRIVE. Journal Akustika, 39(39). Retrieved from https://journalakustika.com/index.php/akustika/article/view/48
License
Copyright (c) 2021 Minas Minasyan, Armen Minasyan, Kyaw Thet Naing
This work is licensed under a Creative Commons Attribution-NonCommercial-NoDerivatives 4.0 International License.
Journal Akustika is peer reviewed journal indexed in Scopus database and
Web of Science.