REDUCING THE AERODYNAMIC NOISE GENERATED BY A PNEUMATIC CONVEYOR USING THE ADAPTIVE SYSTEM OF AIR CUSHION THICKNESS CONTROL
Abstract
The article describes the sources of aerodynamic noise generated inside an air cushion as applicable to industrial conveyor
systems. The relationship between aerodynamic noise level and the air-space thickness is shown. The method of stabilizing the airspace thickness is proposed to reduce the level of aerodynamic noise.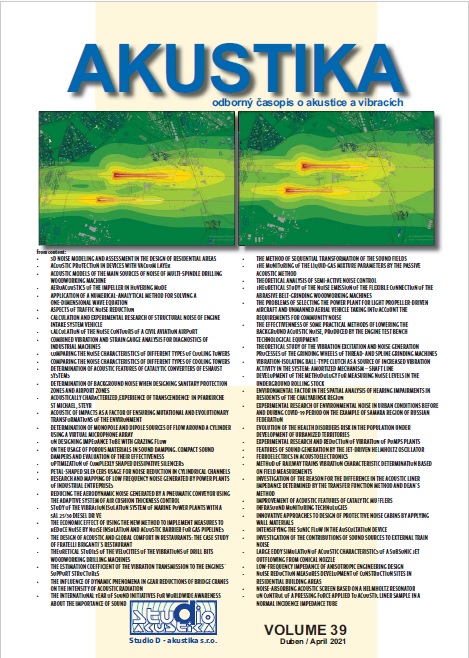 Downloads
How to Cite
Murzinov, V., Murzinov, P., Murzinov, Y., & Popov, S. (2021). REDUCING THE AERODYNAMIC NOISE GENERATED BY A PNEUMATIC CONVEYOR USING THE ADAPTIVE SYSTEM OF AIR CUSHION THICKNESS CONTROL. Journal Akustika, 39(39). Retrieved from https://journalakustika.com/index.php/akustika/article/view/46
License
Copyright (c) 2021 Valery Murzinov, Pavel Murzinov, Yury Murzinov, Sergey Popov
This work is licensed under a Creative Commons Attribution-NonCommercial-NoDerivatives 4.0 International License.
Journal Akustika is peer reviewed journal indexed in Scopus database and
Web of Science. The content of this magazine is protected by copyright.
Dissemination or further disclosure of the content of journal or its parts to
the public without prior consent of the publisher, is expressly prohibited.