ON THE USAGE OF POROUS MATERIALS IN SOUND DAMPING. COMPACT SOUND DAMPERS AND EVALUATION OF THEIR EFFECTIVENESS
Abstract
The results of the calculation of sound-damping elements of various configurations are presented. It is shown that the proposed
solutions are quite effective within the frequency range from 100 up to 400 Hz. The scope of application of the research results is
the improvement of methods of experimental and model studies of the properties of porous materials, as well as the manufacture of sound-damping structures for direct use in the layout of residential premises.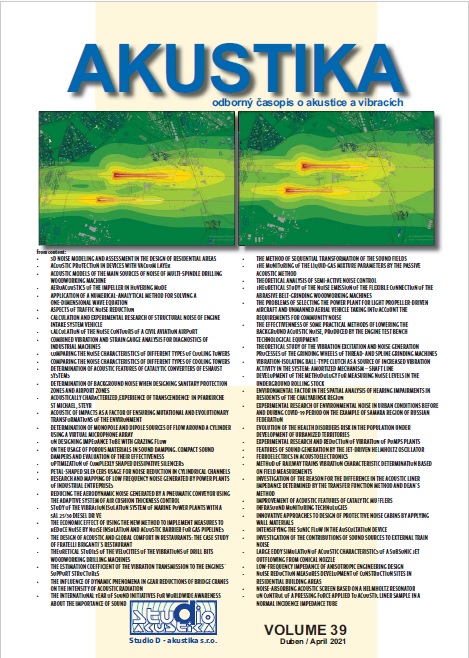 Downloads
How to Cite
Pavlov, I., Tsaplev, V., Konovalov, S., & Konovalov, R. (2021). ON THE USAGE OF POROUS MATERIALS IN SOUND DAMPING. COMPACT SOUND DAMPERS AND EVALUATION OF THEIR EFFECTIVENESS. Journal Akustika, 39(39). Retrieved from https://journalakustika.com/index.php/akustika/article/view/43
License
Copyright (c) 2021 Ivan Pavlov, Valery Tsaplev, Sergey Konovalov, Roman Konovalov
This work is licensed under a Creative Commons Attribution-NonCommercial-NoDerivatives 4.0 International License.
Journal Akustika is peer reviewed journal indexed in Scopus database and
Web of Science.