IMPROVEMENT OF ACOUSTIC FEATURES OF CATALYTIC MUFFLERS
Abstract
This article describes an experimental method of designing mufflers based of finite element modelling and the results of
experimental study. We have presented the results of studies, including in the form of sound pressure distribution over the internal volume and transmission losses of the developed designs of the muffler. Based on the results of these studies, a design with the best vibroacoustic features was selected. The results of experimental testing of the developed and manufactured design of a catalytic silencer in a car are presented.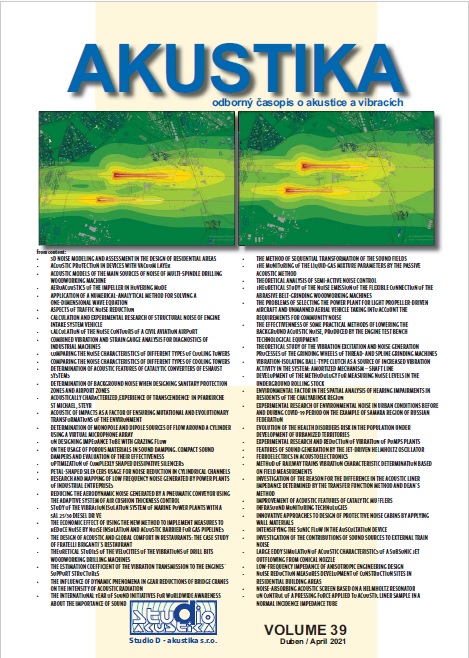 Downloads
How to Cite
Rakhmatov, R., Galevko, V., Nadareishvili, G., & Zuzov, V. (2021). IMPROVEMENT OF ACOUSTIC FEATURES OF CATALYTIC MUFFLERS. Journal Akustika, 39(39). Retrieved from https://journalakustika.com/index.php/akustika/article/view/29
License
Copyright (c) 2021 Rakhmatdzhon Rakhmatov, Vladimir Galevko, Givi Nadareishvili, Valeriy Zuzov
This work is licensed under a Creative Commons Attribution-NonCommercial-NoDerivatives 4.0 International License.
Journal Akustika is peer reviewed journal indexed in Scopus database and
Web of Science.