EXPERIMENTAL RESEARCH OF ENVIRONMENTAL NOISE IN URBAN CONDITIONS BEFORE AND DURING COVID-19 PERIOD ON THE EXAMPLE OF SAMARA REGION OF RUSSIAN FEDERATION
Abstract
Today the acoustical pollution is well monitored, especially in the urban environment, and in particular area it is still increasing.
Environmental noise impact is increasing every year and may cause serious negative problems for inhabitants. Transport
and industrial plants are making the most significant noise levels in the city environment. This paper presents the results of research of environmental noise in urban conditions before and during COVID-19 period on the example of Samara region of Russia. In Russia strong COVID-19 restrictions of traffic movement and industrial enterprises operation have caused significant variations of environmental noise generation and impact in conditions of urban territories. Comparison of results of environmental noise measurements in urban conditions before and during COVID-19 period is showing that transport noise level is reduced, but the industrial noise level is almost the same, especially in low frequency range.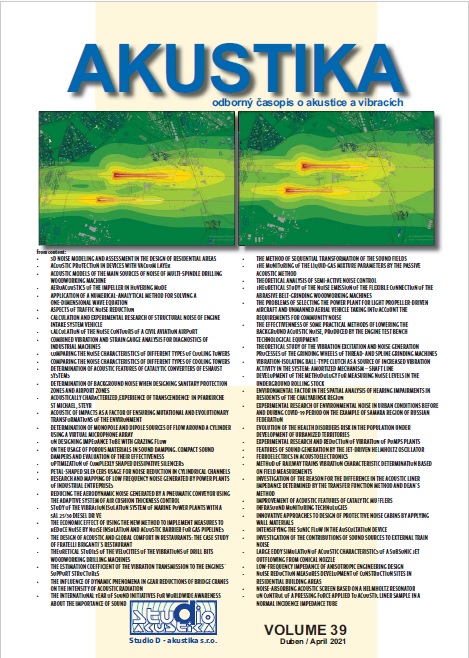 Downloads
How to Cite
Vasilyev, A. (2021). EXPERIMENTAL RESEARCH OF ENVIRONMENTAL NOISE IN URBAN CONDITIONS BEFORE AND DURING COVID-19 PERIOD ON THE EXAMPLE OF SAMARA REGION OF RUSSIAN FEDERATION. Journal Akustika, 39(39). Retrieved from https://journalakustika.com/index.php/akustika/article/view/26
License
Copyright (c) 2021 Andrey Vasilyev
This work is licensed under a Creative Commons Attribution-NonCommercial-NoDerivatives 4.0 International License.
Journal Akustika is peer reviewed journal indexed in Scopus database and
Web of Science.