EXPERIMENTAL RESEARCH AND REDUCTION OF VIBRATION OF PUMPS PLANTS
Abstract
Vibration generating during pumps operation is a serious problem both for the human health and for operational characteristic
of pumps and joining mechanical systems. The reasons of generation of vibration in pumps are considered. Analysis of the
methods of experimental research of vibration of pumps plants is discussed. Results of experimental research of vibration during operation of pump plants on the example of «KuibyshevAzot» public joint stock company of Togliatti city of Russia are described. In total analysis of results of experimental research of vibration characteristic of pumps plants is showing that values of vibration acceleration levels are especially high in low frequency range and in some points of measurements are exceeding maximal permissible norms. Approaches to reduction of vibration of pumps plants are suggested. The results described in this paper may be useful for further development and application of constructions of pumps plants with reduced vibration levels.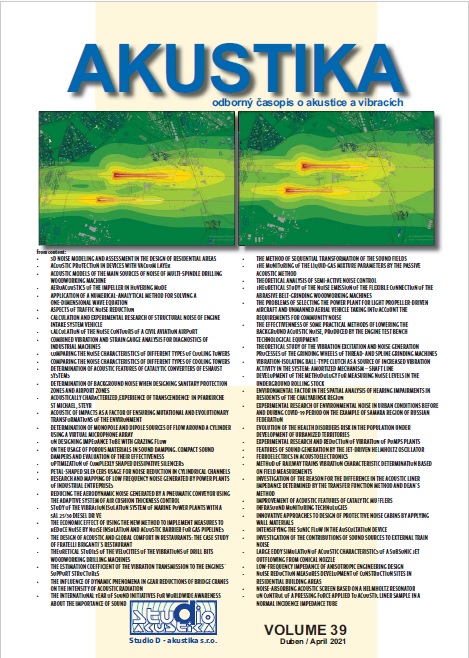 Downloads
How to Cite
Vasilyev, A. (2021). EXPERIMENTAL RESEARCH AND REDUCTION OF VIBRATION OF PUMPS PLANTS. Journal Akustika, 39(39). Retrieved from https://journalakustika.com/index.php/akustika/article/view/25
License
Copyright (c) 2021 Andrey Vasilyev
This work is licensed under a Creative Commons Attribution-NonCommercial-NoDerivatives 4.0 International License.
Journal Akustika is peer reviewed journal indexed in Scopus database and
Web of Science.