DEVELOPMENT OF THE METHODOLOGY FOR MEASURING NOISE LEVELS IN THE UNDERGROUND ROLLING STOCK
Abstract
This document specifies the methodology for measuring equivalent sound pressure levels in octave frequency bands (in
dB rel. 20 μPa), equivalent and maximum A-corrected sound levels (in dB rel. to 20 μPa), generated in the rolling stock in the driver's cabins and in the passenger rooms of the salons, using acoustic meters - multifunctional analyzers Ecophysics, noise and vibration meters, spectrum analyzers Ecophysics 110A, Oktava 110A Eco, Oktava 110A, Oktava 111, B&K 2250, 2250L, 2270, noise and vibration analyzers ASSISTANT, noise and vibration meters, digital spectrum analyzers Algorithm-05, SVAN979. This methodology is applicable for noise measurements in the driver's cabins and in the passenger rooms of the rolling stock of both new and old models operated by the underground railway.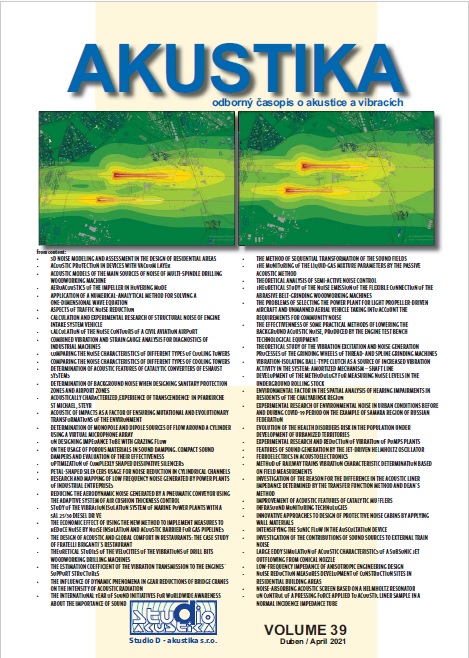 Downloads
How to Cite
Shashurin, A., Fiev, K., Vasilyeva, V., & Voronkov, A. (2021). DEVELOPMENT OF THE METHODOLOGY FOR MEASURING NOISE LEVELS IN THE UNDERGROUND ROLLING STOCK. Journal Akustika, 39(39). Retrieved from https://journalakustika.com/index.php/akustika/article/view/21
License
Copyright (c) 2021 Aleksandr Shashurin, Konstantin Fiev, Viktoriia Vasilyeva, Andrey Voronkov
This work is licensed under a Creative Commons Attribution-NonCommercial-NoDerivatives 4.0 International License.
Journal Akustika is peer reviewed journal indexed in Scopus database and
Web of Science.