COVID-19 AND SOUNDSCAPE CHANGES DUE TO THE LOCKDOWN. THE CASE OF LIMA, PERU
Abstract
COVID-19 pandemic has changed the way of life of the world's population, and initially all non-essential commercial
and industrial activities in all countries were suspended, as well as the temporary closure of major airports and educational activities. As never before, environmental sound levels were reduced as a result of the quarantine, as the authorities ordered people to remain confined in their homes in order to reduce and prevent the SARS-CoV-2 transmission. Cities became silent and in some cases birds and wildlife "took over" this situation. This change in the soundscape led to sounds that were previously masked, now being heard, i.e. HVAC and other noises. This article presents the case of Lima, Peru, in which the impact and annoyance produced by aircrafts overflights are analyzed (during 2020); as well as the healthy soundscape levels achieved 'thanks' to the commercial lockdown and leisure activities.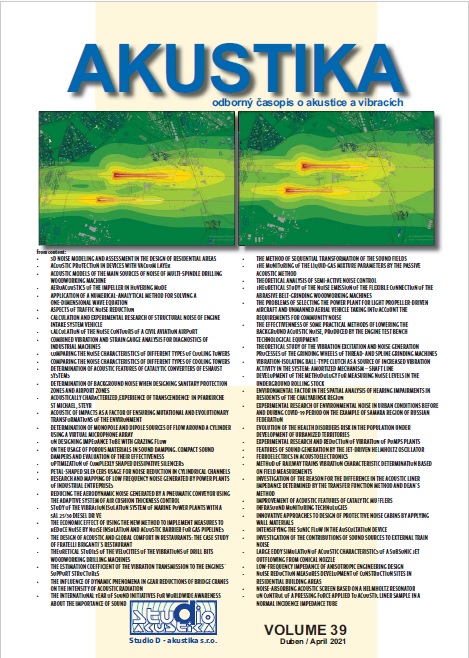 Downloads
How to Cite
Montano, W., & Gushinken, E. (2021). COVID-19 AND SOUNDSCAPE CHANGES DUE TO THE LOCKDOWN. THE CASE OF LIMA, PERU. Journal Akustika, 39(39). Retrieved from https://journalakustika.com/index.php/akustika/article/view/17
License
Copyright (c) 2021 Walter Montano, Elena Gushinken
This work is licensed under a Creative Commons Attribution-NonCommercial-NoDerivatives 4.0 International License.
Journal Akustika is peer reviewed journal indexed in Scopus database and
Web of Science.